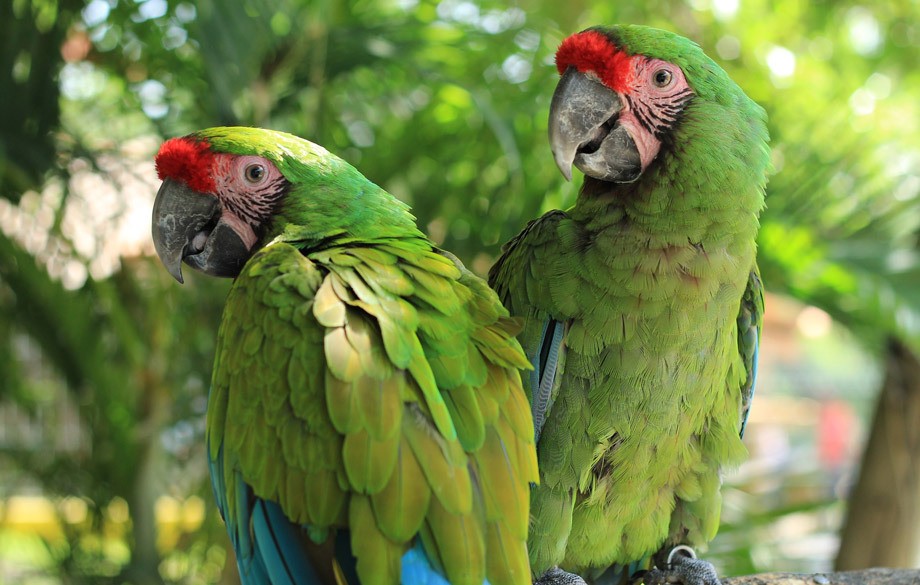 Knowing our environment is the first step in taking care of it, as well as taking into account the importance of the different species of flora and fauna to maintain a natural balance, despite the actions of the human species.
An example of this knowledge is bird watching. Birds are the group of vertebrate animals with the largest number of species on the planet, with around 9,700 varieties. I
n Mexico there are 1,100 types of birds
, of different sizes, classes and colors. Undoubtedly, seeing these birds up close will make you fall in love with them and understand the importance of protecting them. Of the species that have their home in Mexico, there are 370 endangered species of birds, among them the
green macaw.
An escape to a place surrounded by these species, besides getting closer to our planet in a way that cannot be compared to any other, can also be a fun alternative in these times when it is more advisable to live with our loved ones
in open spaces.
Ecotourism in Nayarit to Awake your Senses
Over the years and with the help of science, we have come to realize the importance of maintaining a balanced relationship with our environment. That is why we have created tourist alternatives such as ecotourism, which besides being fun for all ages, make us realize the importance of maintaining a good relationship with the environment.
In different areas of Mexico, protected natural areas have been established, in search of conserving important ecosystems and promoting visits to these places to appreciate nature in its wild state.
In Nayarit, we have some of the most incredible places to do ecotourism, like the
Nayarit National Marshes
, in the northern part of the state,
La Tovara Natural Park
, in the municipality of San Blas, the
Islas Marietas National Park
on the edge of Bahia de Banderas, being an ideal place for birdwatching, as it contains one of the largest colonies of "bobo" brown bird in the world, with just over 30 thousand representatives.
Also in the area of Banderas Bay, is located the Sierra de Vallejo, more than 63 thousand hectares of Natural Protected Area since 2005. Among its rich lands, crossed by rivers and streams like La Colmena, grow and inhabit many endemic animal species that you can only appreciate in this area. 2 thousand of the hectares that correspond to the Sierra de Vallejo, are considered a
sanctuary for the Jaguar
, this impressive big cat that unfortunately year after year decreases the number of specimens.
Rancho El Jaguar
is located in the vicinity of the Sierra de Vallejo and is the best entry point to visit the area and the best place to reconnect with nature, birdwatching and participate in the best ecotourism activities in Nayarit, brought to you by
Xtreme Jaguar.
Strategies to protect endangered birds
No doubt we humans have caused many animals, including birds, to see the space where they used to live diminished. That is why mechanisms have been created to ensure the conservation of animals and endangered birds.
Among these measures are aviaries; places where we seek to conserve different species of birds and encourage their reproduction, as well as inviting visitors to contemplate and observe birds in a controlled environment. Aviaries, as opposed to small cages, allow birds to fly more freely and reproduce in an environment moderately similar to their natural habitat.
That "moderately "is important, because there are birds that do not usually breed in captivity, and that is where the importance of Natural Protected Areas comes in. When an entire ecosystem is protected, we allow its inhabitants to reproduce freely, and we are allowed to appreciate them in all their wild splendor.
In the Sierra de Vallejo Nature Reserve, you will be able to observe birds in their natural environment; varieties of
woodpeckers, herons, different thrushes,
grackles
or the always friendly
green macaw
. Dare to live a natural adventure and awaken your senses.
Green Macaws in Sierra de Vallejo
The Mexican green macaw (
Ara militaris maxicanus
) is a species endemic to Mexico, and can be observed in humid forests, jungles and semi-arid forests of the national territory. Previously it could be seen in many places, but now its habitat has been reduced, so now it is only found in a few places, among them Sierra de Vallejo in Bahia de Banderas, Nayarit.
It is a large, colorful bird and usually lives together with 4 or even 10 specimens that communicate with their characteristic and sonorous calls that you can hear in the environments where they live. They feed on seeds, nectar from different flowers, fruits and nuts, which means that they have to be in constant movement to find food and
watch them fly, with their colorful feathers in shades of green, blue and red is something spectacular
, which you can not miss.
In Xtreme Jaguar we have
different tours
that will allow you to observe birds, like the green macaws. Come with your loved ones and while they walk, ride their bikes, on the back of a tame horse and on modern ATVs, they will be able to observe all the natural beauties that surround us and that we tend to forget because of our busy daily life.
Check out the
offers we have
for you and don't miss out on visiting Sierra de Vallejo's natural reserve, with Xtreme Jaguar. Awake your senses!
Book now:
+52 322 323 5794